Picture Books
Posted on February 2, 2017
Dance Like a Pirate
NLA Publishing 2013, $17.95    Age range: 2 to 7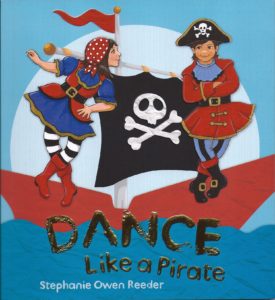 Who wants to dance like a pirate, tiptoe like a fairy, run like a fire fighter or pose like a superhero? And who could resist creeping like a witch, leaping like a ballet dancer, marching like a sailor or stomping like a dragon? Colourful paintings of children dressed up as everything from clowns and rabbits to rock stars and royalty adorn the pages of this lift-the-flap picture book. Rhythmical, interactive verses encourage children to join in the action and the role play, as they exercise both their bodies and their imaginations. And labelled pictures at the end of the book identify the 30 different parts of the body featured in the text. Sharing Dance Like a Pirate is the perfect way to encourage young children to learn the names of the various parts of their bodies and use their imaginations, whilst also getting active and having heaps of fun!
Author insights
When I couldn't find a picture book about parts of the body for my grandsons that identified more than the basic arms, legs, head etc, the obvious solution was to write and illustrate one myself! Inspired by the wonderful images of dancers in the National Library of Australia's collections and my grandsons' love of dressing up, I created the interactive lift-the-flap picture book Dance Like a Pirate. I'm embarrassed to admit that both writing and illustrating this book involved a fair amount of standing in front of a mirror and acting like a pirate or a fairy or a dragon. Someone my age should know better! I hope children enjoy interacting with Dance Like a Pirate as much as I enjoyed creating it.
Reviews
Dance like a Pirate … is the perfect way to encourage kids to get active and to teach them body parts, but more than that … it's a wonderful stimulus for imaginative play … The brightly coloured pictures of children in costume are accompanied by verses in rhyming couplets with a strong, bouncing rhythm, perfect for children to join in … Foundation and kindergarten teachers will love this book. A few props in the dress-up box, and children will have a great time! (Lisa Hill, Lisa Hill School Stuff, http://lisahillschoolstuff.wordpress.com/2013/09/25/book-review-dance-like-a-pirate-by-stephanie-owen-reeder/
Dance Like a Pirate would be priceless for childcare and early childhood centres, libraries and schools, but would be equally enjoyable at home. Just be sure to clear the furniture! (Tania McCartney, Kids Book Review, http://www.kids-book-review.com/2013/10/review-dance-like-pirate.html)
Recommended by Katie Ekberg in 'Best festive books for all ages' in The Australian Women's Weekly, December 2013
Classroom and parent resources
Dance Like a Pirate is on the list of Top Ten Pirate Books, Children's Books Daily at http://children'sbooksdaily.com/top-ten-pirate-books, and also on the list of 10 Picture Books About Dance for Childhood Cancer Awareness, at http://www.mylittlebookcase.com.au/books/10-picture-books-about-dance-for-childhood-cancer-awareness/.
Feeling Fine!
National Library of Australia 2010, $12.95    Age range: 0 to 3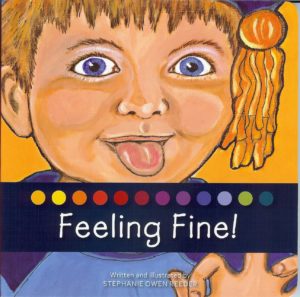 With its colourful illustrations and engaging word play, the boardbook Feeling Fine! encourages very young children to recognise faces that are happy, sad, angry or even scared. This is a perfect interactive book for babies and toddlers who are learning to understand their own emotions and to recognise how others are feeling. It is also recommended for autism spectrum children. Feeling Fine! is a boardbook version of I've Got a Feeling!, which was included by the International Board on Books for Young People (IBBY) in the prestigious booklist and international exhibition Outstanding Books for Young People with Disabilities 2011.
Author insights
I was inspired to do a boardbook version of I've Got a Feeling! by my grandson Kai. He was too little to handle flaps, but he loved looking at the faces, so I wanted to produce a version of the book that was perfect for little hands. Kai has the original painting of 'Cheeky' hanging in his bedroom—it looks a lot like Kai's Daddy when he was a little boy! While the illustrations are the same, I rewrote the text in Feeling Fine! to make it more appropriate for babies and toddlers.
Reviews
A wonderful way for kids to explore their emotions and to learn a fabulous array of new words at the same time. (Tania McCartney, Kids Book Review, www.kids-book-review.blogspot.com)
I've Got a Feeling!
National Library of Australia 2010, $17.95 (out of print)    Age range: 1 to 7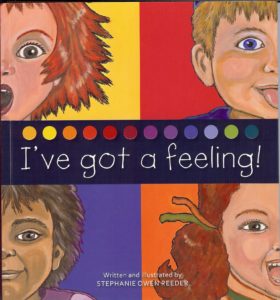 When children feel an emotion, it is written all over their faces and reflected in their body language—the set of their eyebrows, the shape of their eyes and mouth, the way they hold their body and what they do with their hands. I've Got a Feeling! is an entertaining and interactive lift-the-flap book about emotions. With its engaging verses, colourful illustrations and pertinent questions, it encourages children to think about what makes them feel happy, sad, angry or even bored. Teachers Notes are provided at the back of the book, with activities to encourage children to explore their emotions through art and imaginative play. This is a perfect picture book for toddlers and preschoolers who are still learning to understand and control their own emotions and to empathise with how others are feeling. It is also recommended for autism spectrum children.
Awards
IBBY Outstanding Book for  Young People with a Disability 2011
Deadly Book for Little Kids, State Library of Western Australia Better Beginnings [Aboriginal] Literacy Program
Author insights 
While trawling through the National Library's Pictures Collection, I was struck by all the wonderful expressions on people's faces and how they told so much about how the people were feeling. Originally, I was going to use black-and-white photographs for this book, but when I showed my publisher some of my paintings, to my amazement she suggested that I should illustrate the book myself! I am very proud of the fact that it has travelled the world in an IBBY exhibition and is helping children with disabilities to learn about their emotions.
Reviews
Vivid colours, large expressive faces and rich descriptive and action vocabulary make this interactive fold-out book a stand-out for young children. (http://amlib.eddept.wa.edu.au)
There are many books and programs for teaching emotional literacy, but this interactive, lift the flap book is one of the best. Children will be attracted by the vibrant colours, the clear drawings, and the quirky verses describing each of twelve emotions … The additional activities in the back of the book could form the basis of engaging lessons. (A. Souter, Scan: Online Journal for Educators)
Will appeal to a wide range of young children. Babies will love the clearly drawn faces, preschoolers will like the verse and the guessing component, while early primary children will gain most from the photographs and questions in the final pages. (Dr Kerry White, The Source)
… beautifully crafted book resplendent with adorable retro-style illustrations that really pack an emotional punch. (Tania McCartney, Kids Book Review, www.kids-book-review.blogspot.com)
Classroom and parent resources
Teaching ideas are included at the back of the book. You can also purchase worksheets to go with the book through www.teacherspayteachers.com.
Unfortunately, this book is now out of print, but you can listen to I've Got a Feeling being read out loud at https://www.youtube.com/watch?v=XzdX3YSTMmI. If you would really like a hardcopy and feel strongly about a reprint, please contact NLA Publishing and let them know!
Colour My World!
National Library of Australia 2008, $16.95    Age range: 1 to 6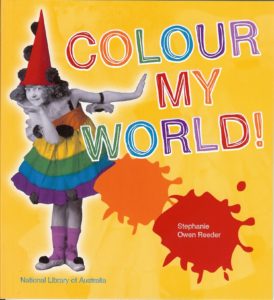 Colours are all around us, but there is more to colour than meets the eye. Colours are often associated with feelings. Red can be warm and cheery, or represent anger or danger. Blue can be fresh and cheeky, or sad and cold. Colour My World! is a picture book for preschoolers and junior-primary children which celebrates colours and how they make us feel. Illustrated with black-and-white images of children from the amazing Pictures Collection of the National Library of Australia, Colour My World! is an interactive book, with a charming text and questions aimed at encouraging children to think about the role that colours play in their lives.  A section at the end of the book provides more information about colours, their different shades and connotations.
Author insights
Books for preschoolers on colour are usually very straightforward, encouraging the child to identify the colours. But I wanted to produce something that took a different look at colours, exploring how they make us feel and what we associate them with. To emphasise the emotional impact of the colours, I came up with what at first seemed a strange idea: illustrating a book on colour with black-and-white photographs. The photos came from the National Library's Pictures Collection, which abounds with wonderful historical photographs of children.
Reviews
Owen Reeder's … text establishes an emotional tone for the colour … Her language has wonderful rhythm and is full of interesting word choices. Each page culminates in an open-ended question … I read this book to my kindergarten class, and every question was a winner. It is a book that stimulates conversation and connection. (Nigel Pearn, Australian Book Review, August 2008)
An appealing book for the very young, designed to aid visual literacy. (Dr Kerry White, The Source)
Classroom and parent resources
Extra information about colours is included at the back of Colour My World!
The Flaming Witch
Random House 1997 (out of print)    Age range: 6 to adult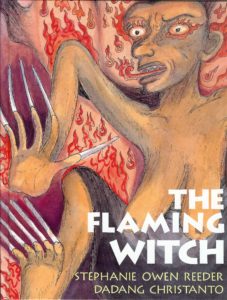 Based on an Indonesian folk tale from the 14th century, The Flaming Witch is the story of Rangda, a powerful witch. She curses the whole kingdom when no one will marry her daughter because no-one wants a witch as a mother-in-law! The king tries to fight fire with fire, but soon realises that only wisdom can defeat the witch's terrible power. Illustrated with stunning watercolour paintings by Indonesian artist Dadang Christanto, whose artwork features in the National Gallery of Australia, this is a stirring story which, like all good traditional tales, takes the reader to another land and another time. And, of course, it has a happy ending.
Author insights
In the early 1970s I translated this story for my honours thesis from Kawi, which is the Indonesian equivalent of Latin. In the late 1970s, I revamped the story in picture-book format for an assignment when I was studying children's literature at university, and I illustrated it with pictures based on Indonesian shadow puppets. In the 1980s, I produced yet another version for my children when they were learning Indonesian at primary school. Encouraged by the school children's responses, I sent that version to the publishers at Random House in the 1990s. Much to my delight, they accepted it and it became the picture book The Flaming Witch.
Reviews
It is an enrichment of literary experience for Australian children to encounter the folklore of Indonesia in this exciting way. (Reading Time)
… it is highly satisfying to spend time with this story—my few words can hardly summarise its immense appeal, which does not arise only from its originality, but also from the universal nature of the tussle between good and evil. (Viewpoint)
Classroom and parent resources
You can find out more about the writing process for this book at https://actwritersblog.com/2013/08/06/fantastically-formative-academia-writing-for-children/. For a list of Asian folktales for children, see http://www.austlit.edu.au/austlit/page/6912791.