Posted on October 22, 2017 in Uncategorized
October has been a busy month! I've been working on seven books at once. Luckily, they are all at different stages of production. Two are now being printed, including my next Heritage Heroes book, Marvellous Miss May, Queen of the Circus, another is with the illustrator, two are with 'interested' publishers for assessment, and I am working on proposals for two more! I also attended two very special events this October.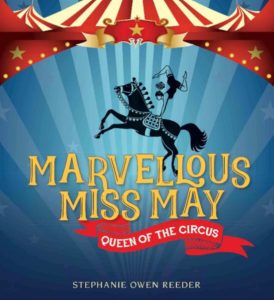 UNVEILING OF THE STATUE OF LENNIE GWYTHER AND GINGER MICK
On 14 October 2017, I attended the unveiling of a life-size bronze statue of Lennie Gwyther and his pony Ginger Mick, who featur in my award-winning historical novel Lennie the Legend: Solo to Sydney by Pony. It was a very special day. Around a thousand people crammed into a small park on Anderson Street in Leongatha to celebrate Lennie and his remarkable achievements. They included polititians and local dignatories, a bevy of school children dressed as Lennie and Ginger Mick, members of the community, four authors who had written about Lennie Gwyther, and over 60 members of Lennie's family, including his daughter, granddaughter and 92-year-old sister Beryl Ferrier. Speeches were made, songs were sung, the children performed and the proud family unveiled the stunning statue. After the ceremony, I signed books for almost an hour, along with Mary Small, author of Lennies's Ride. It was a very special day for all concerned and a perfect tribute to the inspirational achievements of this small boy and his pony.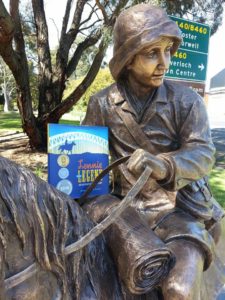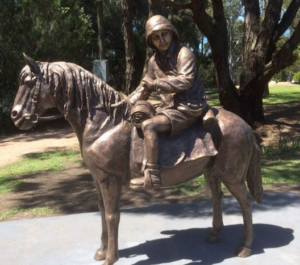 HANDS ACROSS CANBERRA CHARITY EVENT AT THE PRIME MINISTER'S LODGE
On 21 October 2017, I attended a wonderful charity event held in the grounds of the Prime Minister's Lodge in Canberra. Organised by charity group Hands Across Canberra, the inaugural Storytelling at the Lodge event was put on for children with special needs. These amazing young people were treated to a storytelling session with the irrepressable actor Rhys Muldoon, face-painting, balloon-sculpting, and book-readings and creative activities with five of Canberra's children's authors, illustrators and storytellers. We were then treated to a delicious afternoon tea. It was a perfect Canberra spring day, the grounds of the Lodge were bursting with azaleas and wisteria, the children had a ball, and everyone went home happy! Here are some of the contributors: storyteller Mollie Bee, Emeritus Professor Belle Alderman, author Jack Heath, author-illustrator Stephanie Owen Reeder, author-illustrator Tania McCartney and illustrator Tony Flowers. Find out more about this event here: http://www.canberratimes.com.au/act-news/prime-minister-opens-the-lodge-for-hands-across-canberras-educational-childrens-event-20171021-gz5lwv.html.