Posted on October 22, 2017 in Uncategorized
October has been a busy month! I've been working on seven books at once. Luckily, they are all at different stages of production. Two are now being printed, including my next Heritage Heroes book, Marvellous Miss May, Queen of the Circus, another is with the illustrator, two are with 'interested' publishers for assessment, and I am working on proposals for two more! I also attended two very special events this October.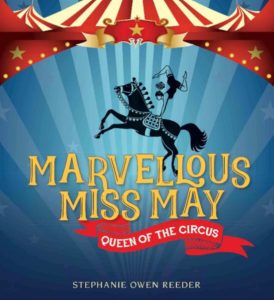 UNVEILING OF THE STATUE OF LENNIE GWYTHER AND GINGER MICK
On 14 October 2017, I attended the unveiling of a life-size bronze statue of Lennie Gwyther and his pony Ginger Mick, who featur in my award-winning historical novel Lennie the Legend: Solo to Sydney by Pony. It was a very special day. Around a thousand people crammed into a small park on Anderson Street in Leongatha to celebrate Lennie and his remarkable achievements. They included polititians and local dignatories, a bevy of school children dressed as Lennie and Ginger Mick, members of the community, four authors who had written about Lennie Gwyther, and over 60 members of Lennie's family, including his daughter, granddaughter and 92-year-old sister Beryl Ferrier. Speeches were made, songs were sung, the children performed and the proud family unveiled the stunning statue. After the ceremony, I signed books for almost an hour, along with Mary Small, author of Lennies's Ride. It was a very special day for all concerned and a perfect tribute to the inspirational achievements of this small boy and his pony.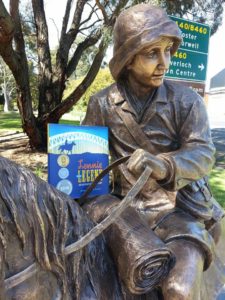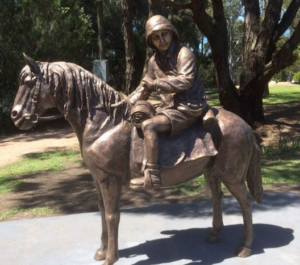 HANDS ACROSS CANBERRA CHARITY EVENT AT THE PRIME MINISTER'S LODGE
On 21 October 2017, I attended a wonderful charity event held in the grounds of the Prime Minister's Lodge in Canberra. Organised by charity group Hands Across Canberra, the inaugural Storytelling at the Lodge event was put on for children with special needs. These amazing young people were treated to a storytelling session with the irrepressable actor Rhys Muldoon, face-painting, balloon-sculpting, and book-readings and creative activities with five of Canberra's children's authors, illustrators and storytellers. We were then treated to a delicious afternoon tea. It was a perfect Canberra spring day, the grounds of the Lodge were bursting with azaleas and wisteria, the children had a ball, and everyone went home happy! Here are some of the contributors: storyteller Mollie Bee, Emeritus Professor Belle Alderman, author Jack Heath, author-illustrator Stephanie Owen Reeder, author-illustrator Tania McCartney and illustrator Tony Flowers. Find out more about this event here: http://www.canberratimes.com.au/act-news/prime-minister-opens-the-lodge-for-hands-across-canberras-educational-childrens-event-20171021-gz5lwv.html.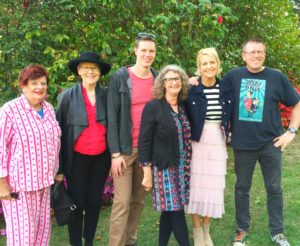 Posted on July 4, 2017 in Uncategorized
Check out my blog about the origins of my Heritage Heroes series on the blog page of the National LIbrary of Australia: https://publishing.nla.gov.au/pages/blog.do?newsId=357.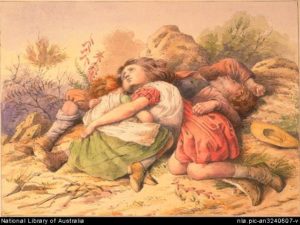 Posted on May 8, 2017 in Uncategorized
The new editions of my 'classic' historical children's books, Lost! A True Tale from the Bush and  Amazing Grace: An Adventure at Sea, are now available. You can purchase them online through the National Library of Australia's website, where they feature on the home page at https://www.nla.gov.au/.  Enjoy!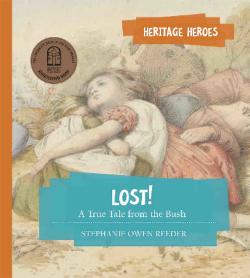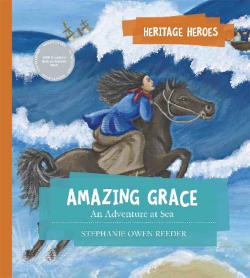 Posted on April 15, 2017 in Uncategorized
Call me old fashioned, but I still write the first draft of all my books by hand, using a gel pen and an exercise book! I love the creative flow of words streaming straight from the brain, down the arm and out through the finger tips onto the empty page. And I usually write the whole book all at once, with just the occasional correction as I go.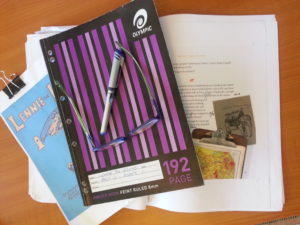 Mind you, with my Heritage Heroes books, before I write I have already spent about six months immersing myself in research, starting with primary sources such as contemporary newspaper reports, articles and memoirs, and then moving on to secondary sources. As I go, I transfer the information onto the computer, organising it into categories such as storyline, characters, settings and timeline. I also collect as many images as I can, as photographs and paintings provide lots of interesting details about the historial period.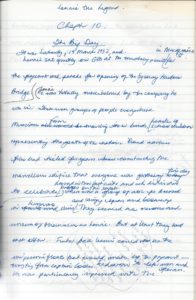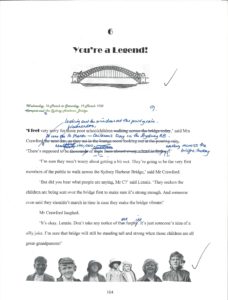 Once the characters start waking me up in the middle of the night having noisy conversations in my head, I know it's time to get the story down on paper! And that's when the trusty pen and excercise book come out. Part of the reason why I handwrite the first draft is to avoid editing at this preliminary stage. I just want the story to flow. Also, as a professional editor, it is hard for me to not start editing as soon as I have a few words on the screen, and that sometimes means going over and over the first paragraph without ever moving on! So handwriting it is.
Once the handwritten draft has been transferred onto the computer (often making editorial changes as I type), then editing starts in earnest. When I get to the stage where I know the text needs to be seen by a new set of eyes, then it's off to the publisher's, where a copyedit is undertaken by a professional editor. There is then a period of toing and froing, as the manuscript goes between the editor and the author, until we are both satisfied that the text is as good as it can be.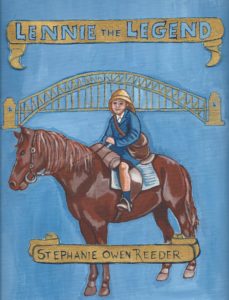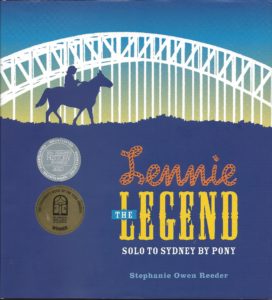 A similar process then occurs between the designer and the author. Then it's time for proofreading, again done by a professional editor. Finally, with fingers crossed that no errors have been missed by any of us, the manuscript goes off to the printer to become a book! As you will see from the examples above, Lennie the Legend originally had ten chapters, and there was a lot more text than ended up in the final version. I had to do a lot of 'killing my darlings' for that one!
I would be interested to hear from other authors about their writing processes. Is there anyone else who, like me, still writes their first draft by hand?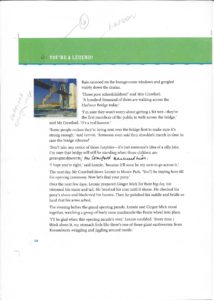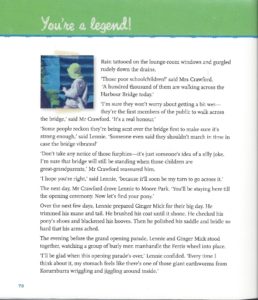 Posted on March 17, 2017 in Uncategorized
I've just signed the contract for my next book – an historically based picture book set at the beach, and featuring more Australian icons. Signing a contract is always exciting. It's wonderful having a new book accepted for publicaton. But it's also daunting – all that research, writing and editing still to come!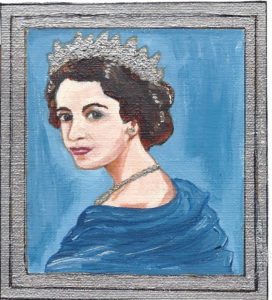 It made me think about the first writing contract I ever signed, way back in the 1970s. My lecturer in history at Sydney Teachers College had sent one of my assignments off to the NSW Department of Education. Her comments on my teaching kit on Aboriginal Culture began with the words: 'I am overwhelmed in the face of such maginificence.' I'd obviously put a lot of effort into it! Mind you, her comments ended with the words: 'Watch the fire-making experiment in the classroom'! Don't you love the naivity of brand-new teachers! Much to my amazement, the Department of Education purchased the teaching kit from me, and I duly signed a contract between me and 'The Queen'!
My next contract was with Random House in 1993, for the text of the picture book The Flaming Witch. I was so excited! This book had taken a long time to evolve. It began as my honours thesis at Sydney University in 1972, in which I translated the story of the witch Rangda from Old Javanese and analysed the artistic representatons of this fascinating folk tale. I then reworked it in 19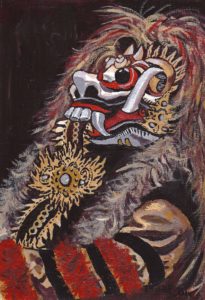 81, while studying Children's Literature for my Graduate Diploma in Librarianship. I wrote a picture book text and produced illustrations based on Indonesian shadow puppets. And then, in the 1980s, I reworked it again in a more child-friendly version, when my children were studying Indonesian at Forrest Primary School. This was the version that I submitted to Mark Macleod at Random House. So that picture book was a good 20 years in the making! Even more waiting was involved, as it was 1997 before The Flaming Witch was actually published, with stunning watercolour illustrations by Indonesian artist Dadang Christanto.
Since retiring from full-time work at Parliament House in 2006, I've signed many contracts for books and editing work, and even for film rights. I've learnt the hard way the importance of reading every word of your contract, and making sure that you understand the implications of every clause. Always ask if something isn't clear. And make sure you are covered for every possible version of your work. You just never know what the future might bring!
Posted on March 14, 2017 in Uncategorized
I'm pleased to announce that the Heritage Heroes series is now official, with revised editions of both Lost! A True Tale from the Bush and Amazing Grace: An Adventure at Sea, bearing the 'Heritage Heroes' logo, coming out in May 2017. Here's a sneak preview of their brand-new covers!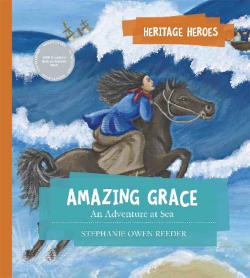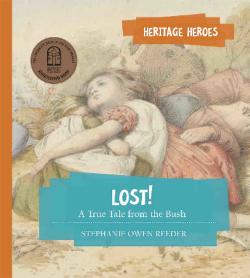 Posted on February 3, 2017 in Uncategorized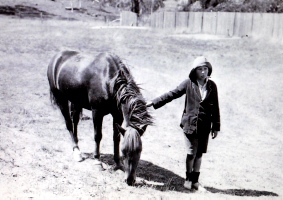 My latest Heritage Heroes book, Lennie the Legend: Solo to Sydney by Pony, has done better than I could ever have imagined. The book has been shortlisted for three awards, optioned for a film, and it has helped to inspire a musical, two songs and a statue! Of course, the main reason for all of this is Lennie Gwyther himself and what he achieved as a child. The book's strength lies in the true story that it is based on. Here are some highlights from Lennie the Legend's journey so far: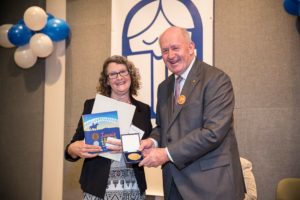 Lennie the Legend won the Children's Book Council of Australia's Book of the Year Awards 2016  in the Eve Pownall category for information books: https://cbca.org.au/book/lennie-the-legend-solo-to-sydney-by-pony. Here is the judges' report http://readingtime.com.au/judges-report-cbca-book-year-awards-2016/. My acceptance speech is avaialable at: http://readingtime.com.au/cbca-eve-pownall-award-information-books-acceptance-speech-dr-stephanie-owen-reeder-author-lennie-legend/. It was a truly wonderful experience to be a part of the award ceremony along with so many notable Australian children's authors and illustrators, including Robert Ingpen, Morris Gleitzman, Peter Gouldthorpe, Libby Gleeson, Anna Walker and Emily Rodda. It was also an honour to receive the award from Australia's Governor-General, His Excellency Sir Peter Cosgrove.
Lennie the Legend was Highly Commended in the ACT Writing and Publishing Awards 2016, in the Children's category, which was won by the wonderful Jackie French for her picture book Horace the Baker's Horse. A book that I edited, This is Captain Cook, by the talented duo of Tania McCartney and Christina Booth, was also Highly Commended: https://actwritersblog.com/2017/01/19/2016-act-writing-and-publishing-award-winners/.
One of the delights of being an author is getting feedback from your readers. The response of the children at Gunning Public School to Lennie and his story was truly inspiring: http://www.goulburnpost.com.au/story/4181245/author-makes-school-visit/ and http://www.gunning-p.schools.nsw.edu.au/gallery/author-visit. And I love the illustrations created by the children at Oromahoe School in New Zealand. I have also received much-appreciated letters from people who knew and worked with Lennie and wanted to share their memories of  him.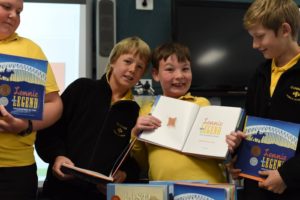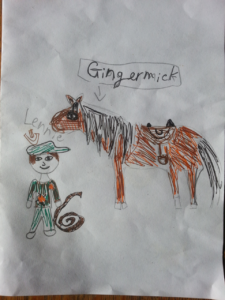 Thank you, Lennie. It has been a roller-coaster ride of epic proportions – who knows where we will go next!