Heritage Heroes
Posted on February 2, 2017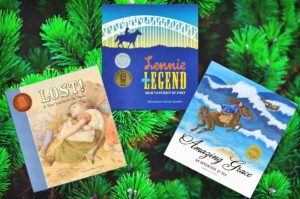 Sharing inspiring stories from Australia's past with the children who are our future!
In my award-winning Heritage Heroes series I retell true stories from Australia's past featuring ordinary children and young people who have achieved amazing things against the odds. These are inspirational stories which delve into Australia's history. Each stand-alone book in the series tells the story of a particular child, bringing their history to life in novel format, with information sections at the end of each chapter presenting extra historical detail.
The Heritage Heroes books are based on exhaustive research, and aim to provide children with an interesting and exciting entrée to the past, as well as a good read. Beautifully designed and lavishly illustrated, the books feature stunning images from the collections of the National Library of Australia, as well as an epilogue, a glossary and a list of background reading material. Four Heritage Heroes titles have been published so far, and I am currently working on the fifth, which is set in the South Australian outback.
Marvellous Miss May, Queen of the Circus
Available in February 2018. Pre-order now at http://bookshop.nla.gov.au/book/marvellous-miss-may-queen-of-the-circus.do.
NLA Publishing 2018, $24.99    Age range: 6 to adult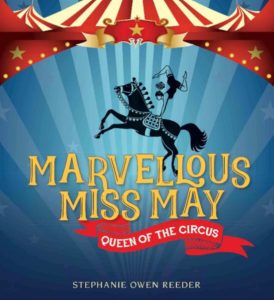 This is the inspiring true story of a tiny circus performer who in 1901, at just seven years of age, was given away by her desperate mother to Wirth Brothers Circus. May missed her mother, brothers and sister terribly, and she found it hard to settle into a circus where she knew nobody. But this young girl from Bundaberg in Queensland had big dreams. She wanted to be the best bareback rider in the world, performing tricks on the back of a galloping horse that only a few men could do. It was many years before she was deemed ready to perform on horseback – one of the most difficult and dangerous jobs in the circus. Would Miss May's agility, poise, flexibility, talent and determination enable her to fulfil her dreams?
Author insights
It was a moving experience researching the life of this plucky little girl, who had to cope with more traumas in her early life than most of us do in a lifetime. Supported by the circus family who adopted her, May went on to achieve her dreams – and then some! Like my other Heritage Heroes, Miss May is a truly inspirational young person from Australia's past!
Lennie the Legend: Solo to Sydney by Pony
NLA Publishing 2015, $24.99    Age range: 6 to adult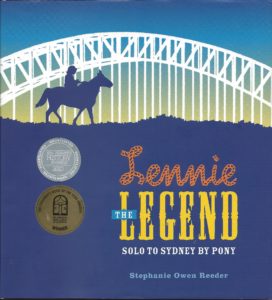 In 1932, a nine-year-old boy embarked on an amazing journey on horseback, travelling nearly 1,000 kilometres by himself from Leongatha in the Gippsland area of Victoria to Sydney just to be present at the opening of the now iconic Sydney Harbour Bridge. By the time Lennie and his indefatigable pony, Ginger Mick, reached Sydney, they had become celebrities. They were welcomed into Sydney by cheering crowds. This is the remarkable and inspiring story of one small boy with a passion for engineering and a fascination with the Harbour Bridge who had the determination to make his dreams come true.
Awards
Highly Commended, ACT Writing and Publishing Awards 2016
Shortlisted,  Young People's History Prize, New South Wales Premier's History Awards 2015
Winner, Eve Pownall Award for Information Books, Children's Book Council of Australia Book of the Year Awards 2016
Author insights
Researching and writing Lennie the Legend was a three-year journey in its own right. It involved a long road trip that brought home to me just how remarkable Lennie's achievements were. This laconic, practical but passionate little boy set himself a goal and made sure he achieved what he wanted against all the odds. He was truly inspirational!
Reviews
This is a masterly narrative based on the real-life adventure of nine-year-old Lennie Gwyther … The exquisite presentation entertains and informs through the combination of a powerful and engaging narrative and a lavishly and richly illustrated multimodal visual presentation … (Judges' Comments, CBCA Children's Book of the Year Awards 2016)
The highly innovative presentation of this book vividly draws on multiple archival sources, which makes it a real pleasure to read. The book offers a new perspective on the well-trawled history of the opening of the Sydney Harbour Bridge … Lennie the Legend combines a rich narrative with historical detail and impressive pictorial archives to bring the story to life for young readers … Like all good books for young readers, it also has considerable appeal for adults.  This beautifully conceived historical narrative will appeal to young readers, as well as providing a good reference book. (Judges Report, NSW Premier's History Awards 2015)
Lennie's unusual story of perseverance and courage is told with great charm in this beautifully presented glossy picture book … a wonderful supporting resource for the History curriculum … Highly recommended. (Jane Smith, Magpies: Talking about Books for Children, vol. 30, March 2015: 38)
I really enjoyed looking at this period of history through the eyes of the likable, determined and humble Lennie, a kid who had a dream that landed him in the middle of one of Australia's defining moments. (Deborah Abela, Reading Time: Children's book news and reviews from the Children's Book Council of Australia, http://readingtime.com.au/lennie-the-legend-solo-to-sydney-by-pony/)
This is one of the best NLA books I have read, although each one has been of the highest standard in every area. Stephanie Owen Reeder's excellent narrative skills and insightful prose breathed life into this amazing story. (Anastasia Gonis, Buzz Words Magazine, http://www.buzzwordsmagazine.com/2015/03/lennie-legend-solo-to-sydney-by-pony.html)
This is such an inspiring tale – it is a delight to know Australian stories like this are reaching the ears and eyes of our youngsters. This important and enchanting story will stay long in the heart of any reader, no matter their age. (Tania McCartney, Kids Book Review, http://www.kids-bookreview.com/2015/02/review-lennie-legend.html)
Stephanie Owen Reeder has developed an effective strategy for focusing on a personal journey while immersing readers in the daily life of a bygone era … Part history and part historical fiction, Lennie the Legend brings to life an inspirational episode from Australia's past and provides insight into the values and resilience of a generation that survived against the odds. (Elizabeth Bor, ReadPlus, http://www.readplus.com.au/blog_detail.php?id=5449)
Classroom resources
Here are my Teachers Notes for Lennie the Legend: Lennie the Legend Teacher's Notes. There are also ideas for using the book in the classroom at http://www.petaa.edu.au/imis_prod/w/Teaching_Resources/w/Teaching_Resources/CBCA2016/2016_CBCA_Guide.aspx.
You can find more ideas at: http://www.ozcurriculumhq.com.au/history/lennie-the-legend-by-stephanie-owen-reeder/.
And if you are looking for insights into the writing of the book, you can visit the Reading Matters website at https://www.facebook.com/SwitchOnYourRadio/photos/pcb.1280211142043056/1280208138710023/?type=3 or the A Bigger Brighter World blog at http://www.abiggerbrighterworld.com/owen-reeders-lennie-is-legendary-and-loveable/.
You can also see film footage taken by families who attended the opening of the Sydney Harbour Bridge in 1932 online at http://aso.gov.au/titles/newsreels/opening-sydney-harbour-bridge/clip2/ and http://aso.gov.au/titles/home-movies/farey-sydney-harbour-bridge/clip1/. The one titled Farey: Opening of the Sydney Harbour Bridge shows Lennie riding on Ginger Mick.
Amazing Grace: An Adventure at Sea
NLA Publishing 2011, $29.95    Age range: 6 to adult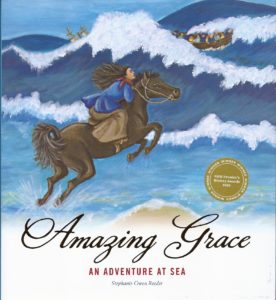 Teenager Grace Bussell helped to save the passengers and crew of the SS Georgette, which was wrecked off the Western Australian coast near Margaret River in 1876. Grace rode her horse into the surf and helped save nearly 50 people from drowning. But she was not the only brave soul in this amazing tale of perseverance, selflessness and bravery. Amazing Grace is lavishly illustrated with paintings, drawings and photographs from the nineteenth century. It includes information sections at the end of each chapter that provide more information about shipwrecks and Grace and her family, as well as a glossary, a map and an epilogue.
Awards
Winner, Young People's History Prize, New South Wales Premier's History Awards 2012
Author insights
Grace's story touched me personally, as my mother was born in Western Australia and my grandfather was a sailor on the ship the Koolama, which sank off the Western Australian coast after being bombed by the Japanese during the Second World War. Also, my great-grandfather on my father's side died in the sinking of the Rosedale off the north coast of New South Wales in 1911. Grace's story was interesting to research because the accounts of her heroism varied so greatly—everything from riding home to get help, to single-handedly saving every passenger. The truth, of course, lies somewhere in between.
Reviews
This book is absolutely outstanding … The author is a master storyteller … I highly recommend Amazing Grace and it should find a place on all bookshelves. (Vicki Stanton, Buzz Words Books, http://buzzwordsmagazine.blogspot.com)
Like its predecessor [Lost!], there is an endearing quality to this book. Apart from the fascinating information the reader can glean from its pages, and the pleasure one gets in simply reading the well-told tale, it is a book that we can all treasure and add to our personal trove of special titles. Highly recommended. (Russ Merrin, Magpies)
Another sumptuous publication from NLA in Canberra … crafted into 100 glorious pages of Australian history by Dr Reeder … Imaginatively recreating history to bring it to a young readership in such an engaging fashion that adults will enjoy it thoroughly too. (Krista Bell, ABC Radio)
Australian history is brought to life here in a manner easily understood by primary students. (NSW Board of Studies)
Classroom resources
You can access my Teacher Notes for Amazing Grace here Amazing Grace – Teachers Notes, and you can listen to me talking on ABC Radio WA about writing Amazing Grace at http://blogs.abc.net.au/wa/2012/12/amazing-grace-the-grace-bussell-story.html. Further information about Grace Bussell and the wreck of the Georgette can be found at http://www.abc.net.au/backyard/shipwrecks/wa/georgette.htm and http://www.insidehistory.com.au/2013/11/saving-grace-western-australias-shipwreck-rescuer-grace-bussell/.
Lost! A True Tale from the Bush
National Library of Australia 2009    Age range: 6 to adult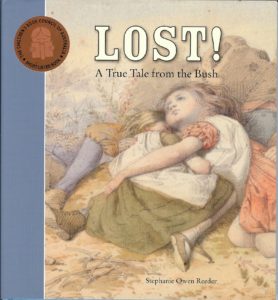 Tales of children lost in the bush have frightened and fascinated the Australian public since colonial times. In August 1864, three children—Isaac aged nine, Jane seven, and Frankie who was just three—survived for nine long days and eight cold, winter nights in the desolate mallee scrub of the Wimmera District of western Victoria. They walked for nearly 100 kilometres with no food or shelter and very little water. Against all the odds, the children were finally found, very ill but alive. Lost! A True Tale from the Bush is their inspiring story.
Awards
Shortlisted, Eve Pownall Award for Information Books, Children's Book Council of Australia Book of the Year Awards 2010
Author insights
I was inspired to write Lost! by the tender image of the children lost in the bush painted by artist William Strutt that appears on the front cover of the book. As a mother of three children, I was affected by their plight and, once I started researching the story, I just had to share it with others. I also know all too well the feeling of sitting at home waiting to hear that your children have arrived back safely from their adventures! The story also resonated with me because, as a child, I lived in a little white house that sat on the side of a gully, and I spent hours playing in the bush. Occasionally I got lost—but luckily only for the afternoon!
Reviews
This is a wonderfully satisfying book to handle and … a handsome addition to the art of the book in Australia. (Maurice Saxby, Magpies)
… an absolutely charming book for kids (Michael Cathcart, Bush Telegraph, ABC Radio National)
This will make a valuable addition to primary school libraries, and a beautiful gift book, especially for families where it is shared and discussed as a read-aloud. (Robin Morrow, Australian Bookseller & Publisher)
A book to share with children, and a wonderful gateway for classroom use to a more personal introduction to Australian history. Beautifully bound and presented, highly recommended. (Dr Kerry White, The Source)
The harsh way of life of our pioneering families imposed by the Australian outback is exquisitely described in this updated edition of a true event 150 years ago … Provides a model for retelling factual events in an interesting and more personal manner. (NSW Board of Studies)
Classroom resources
For ideas on how to use Lost! in the classroom, see my Teachers Notes Teachers Notes for lost and Uncovering History Using Multimodal Literacies by Geoff Bull and Michele Anstey, pages 55-57, published by Education Services Australia. You can listen to me talking about writing Lost! at https://www.youtube.com/watch?v=etknnmTUKTc and at www.abc.net.au/rural/telegraph/content/2009/s2693314.htm).