Books and Stories
Posted on February 2, 2017
My books for adults and short stories for children are featured here. Please see the 'Picture Books' and 'Heritage Heroes' pages for information on my other books for children. You can purchase most of my books online through the National Library of Australia's bookshop at http://bookshop.nla.gov.au/category/nla-publications.do.
The Vision Splendid
National Library of Australia 2011, $34.95 (out of print)    Age range: adult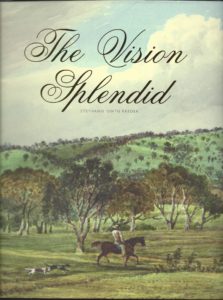 The National Library of Australia's Pictures Collection contains a treasure trove of sketchbooks from the nineteenth century. They range from impressive leather-bound albums, with marbled endpapers and gold engraving, to battered pocket-sized sketchbooks. Each sketchbook tells the story of both its artist and the places and people they depicted. Opening these books is like taking a trip back in time. You are seeing the Australian and New Zealand landscapes through the eyes of someone who has just stepped off the boat after a long and sometimes harrowing passage across the ocean to a new world.
Most of the images have been wonderfully preserved. The colours are still bright, often luminous, and the different artists' interpretations of both built and natural landscapes provide engaging insights into the colonial world, where horses were the main mode of travel, homesteads were often nothing more than cottages or bark-slab huts, and farming was backbreaking physical work.
The Vision Splendid showcases the sketchbooks of 22 artists who recorded their time in Australia and New Zealand in often breathtaking detail and with great enthusiasm. They range from well-known professional artists such as Eugene von Guerard and Albin Martens, to amateurs about whom very little is known, such as John Goldfinch and Edward Thomson. These engineers, military men, solicitors, public servants and pastoralists all delighted in recording what they saw, and then sharing it with family, friends and the wider public. The Vision Splendid presents both the artwork and the life stories of these sometimes remarkable, but often quite ordinary, people for an even wider audience to share.
Reviews
Stephanie Owen Reeder is a Canberra-based writer and illustrator who deserves credit for compiling the artwork and producing a text that will be inviting to the general reader. (Courier Mail)
A handsome coffee table book depicting 19th century Australia. (North Shore Times)
Little Treasures
Bookplates, Australian Flowers, Australian Animals, Book of Hours, Australian Birds, Maps
National Library of Australia 2008, $4.95 each    Age range: adult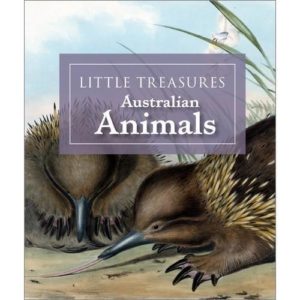 These beautifully illustrated little fold-out gift books feature stunning images from the National Library of Australia, accompanied by informative texts written by Stephanie Owen Reeder. Each book in the set of six showcases images from particular NLA collections, including delicate flower paintings by Ellis Rowan, paintings of animals from John Gould's classic The Mammals of Australia,  illuminated manuscripts, and bookplates illustrated by artists such as Norman Lindsay, Pixie O'Harris and Brett Whitely.
My Reading Journal
National Library of Australia 2008, $19.95    Age range: 6 to 10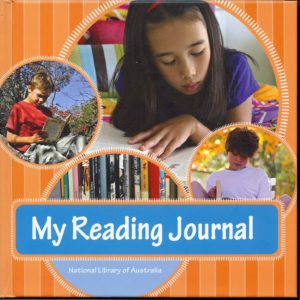 Every time we open a book we go on a journey of discovery. As we take this journey, it is good to keep a diary of our adventures. My Reading Journal encourages children to keep a record of their reading journey. There are pages to fill in with details of the books they have read, plus sections for listing their favourite books, characters, authors and illustrators. Illustrated with colourful photographs of children reading, and featuring inspirational quotes from Australian authors and illustrators, My Reading Journal allows children to record the very special story of their personal journey through books.
Reviews
Clever, educational, encouraging and great fun, My Reading Journal is scattered with wonderful quotes from Australian authors and lovely photos of kids reading. A must for kids who love to get interactive about their books. (Kids Book Review)
Short stories for children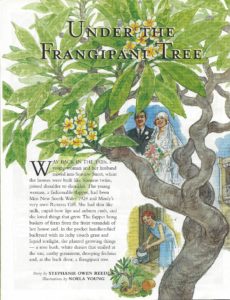 'The Tyrannical Toad', illustrated by Marissa Gunning, Blast Off, New South Wales School Magazine, No. 7, August 2013: 12-14  
'The Parliamentary Cat: A Modern Folk Tale', illustrated by Erin McGuire, in The House at Work, Parliamentary Education Unit, Parliament House, Canberra, 2001: 144–148
'The Empty Leg', illustrated by Astra Lacis, Blast Off: New South Wales School Magazine 88(3), April 2003: 81–83
'Kala Rahu and the Moon Maiden', illustrated by Gaye Chapman, Countdown: New South Wales School Magazine 84(2), March 1999: 56–60
'Under the Frangipani Tree', illustrated by Noela Young, Touchdown: New South Wales School Magazine 84(7), August 1999: 220–222