Editing
Posted on February 2, 2017
I have worked as an editor of parliamentary transcripts (Hansard), journals and books since the early 1980s. Some of the books I have edited include:
The Inside Story: Creating Children's Books
Children's Book Council of Australia 1987 (out of print)    Age range: adult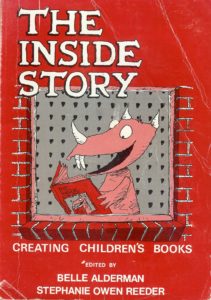 Co-edited by Stephanie Owen Reeder and Emeritus Professor Belle Alderman AM, The Inside Story provides insights into the writing, illustrating, editing and publishing processes involved in creating some of Australia's best-loved books for children, including Possum Magic. It features edited talks presented at the Children's Book Council Seminars on Writing and Illustrating for Children held in Canberra from 1983 to 1986. Luminaries covered include Jeannie Baker, Terry Denton, Ann James, Jennifer Rowe (aka Emily Rodda), Julie Vivas, Jenny Wagner and Nadia Wheatley, many of whom are still creating books for children today.
Reviews
The Inside Story will fascinate, inform and entertain anyone who is interested in Australian children's literature. For those who teach, study or produce it, it will be essential reading. Dr Peter Clayton, Lu Rees Archives Notes, Books and Authors
This is Captain Cook 
Written by Tania McCartney and illustrated by Christina Booth.
Canberra: NLA Publishing, 2015  (http://bookshop.nla.gov.au/book/this-is-captain-cook.do)
S.T. Gill & His Audiences 
Written by Emeritus Professor Sasha Grishin.
Canberra: NLA Publishing, 2015  (http://bookshop.nla.gov.au/book/st-gill-his-audiences.do)